'65 Corvair Corsa coupe.
So you want to know more about the car pictured here? Here's a short history:
The Car.
It's a 1965 Corsa coupe 140/4. Rebuilt 140 10:1cr, forged pistons, ported heads, ported and rotated carbs (stock) jetted 52/57, headers w/2" extractors, MSD ignition, stacks w/ K&N filters, 63 amp alt. '66 3.55:1 ratio posi transaxle w/4spider gear pak, '66 hubs. Cut down HD springs and Koni's, aftermarket quick steering arms and factory quick box, ADDCO rear sway bar.
Yenko style rear seat area, custom stereo, Corbeau GT seats, quick shifter, fresh carpeting, Grant wood steering wheel, added oil press and temp gauges. Battery relocated to trunk, electric fuel pump. Tires are BFG R-1's, size 225/50-15 on SenDel 15x6.5" wheels with 5" of backspacing. The exterior has GM dual sport style mirrors, a custom 7" rear spoiler, and the body is painted Regal Red with a white cove area.
How it got this way.
I bought the car when I was 18, in 1980. Turned out that at least 2 gallons of bondo were used "restoring" it, and the paint had not been removed prior to bondoing, which rusted out the body, but the floorpan was still solid :-( It got parked in '86. I rebuilt the car with a body from Texas (which was originally going to be an ultra-trick car, but that's another story), with the various hipo stuff I had acquired over the years, starting in late '88.
In May '90, I pulled the car into a friend's garage to begin restoring the body. Doors, hood, deck, and all trim was removed, next all the paint (factory paint :-) was removed chemically, then the body was treated to remove various surface rust. Only two holes were found, under the battery and in one of the door pillars, which were fixed by MIG welding. We then shot it in Regal Red, using a clear/color system. Due to a few little life changes (marriage, two children, and two job changes :-), it took a bit longer than the original 6 week estimate. To be exact, it was ready in time for the Fairfax City 4th of July parade. 1993.
Anyway, it made it to the Williamsburg Corsa International Convention in '94, where my lovely wife Ellie took home a trophy in Street Mod. I didn't, so one of these days I have a score to settle :-) The photo above was captured from a video that George Anderson took of my runs.
In 1995, we ran the car in 7 of the local autocross series events, sorting out the car and getting some real driving experience. Since then a number of things have kept the car off the course, but there are a few mods in store for the old girl:
New springs. After a fair amount of study, I firmly believe that most competition Corvairs do not have enough spring rate. I had Bob Coffin set me up with some springs that should work a good bit better, they are ~25% stiffer than the cut HD springs I and most others are using. If you take a look at this photo, you'll see a fair amount of body roll. While really big sway bars could resolve this, it's generally better to have the springs do most of the work. Yes, I am a member of the "stiff bar/soft spring" school of thought, but remember that these are relative terms - if you've increased the sway bar rate by 50% you should be at least considering stiffer springs.

Stiffer sway bar mounts. Also from Bob, these should increase the effective rate of the swaybars. They are quite similar to the Crown parts.
Ignition. I also have some new ignition parts, a kit from DALE to convert the points to a Chrysler magnetic trigger, which will feed an MSD 6A amplifier (I currently have an MSD 5).
Update, 2004.
It took quite a bit longer to get to this point, in part because I found the #5 cylinder had low compression and I just wasn't up to tearing that down as well. But, the car is now up on jackstands in our carport for some TLC: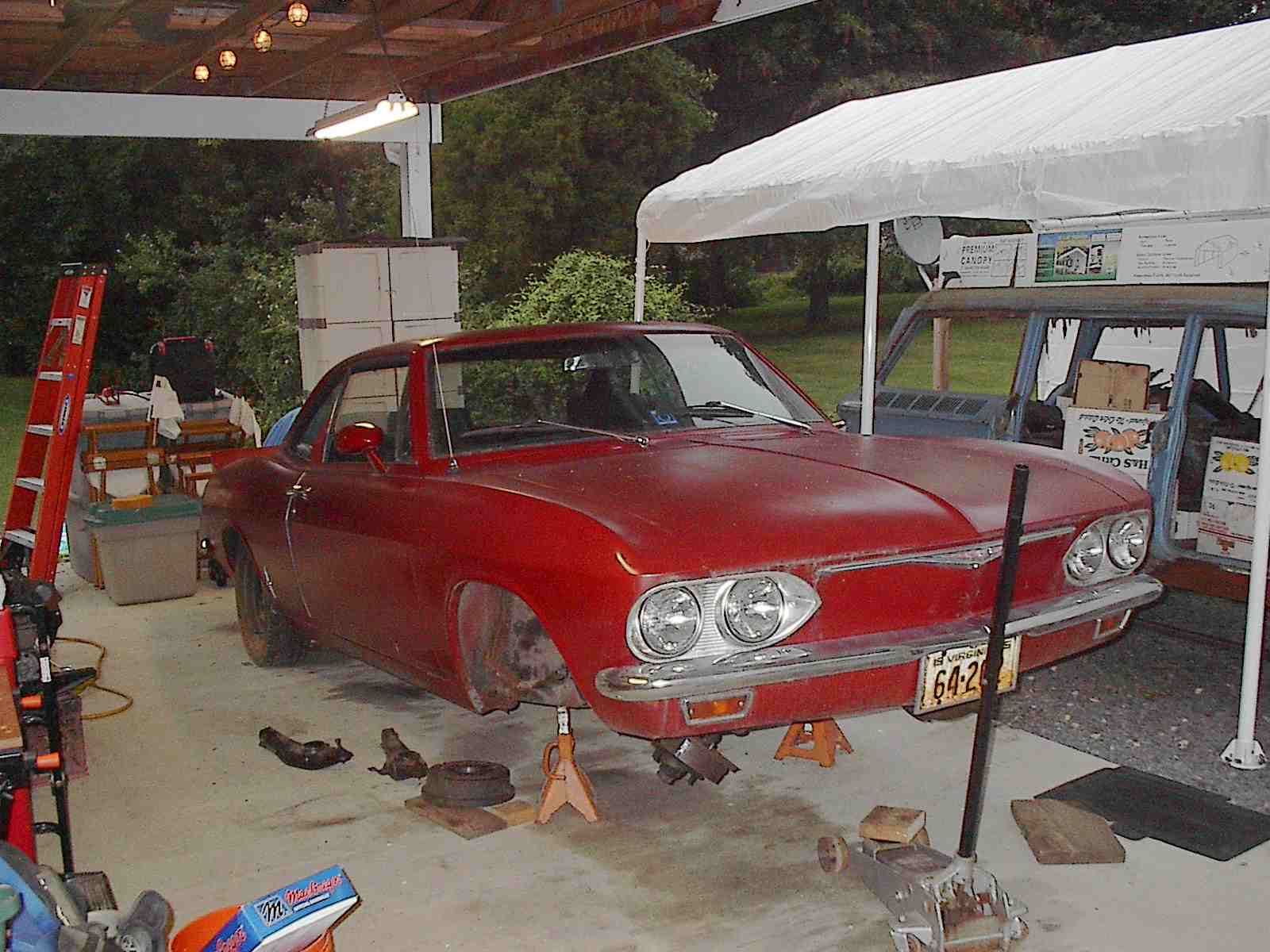 Update, 2013. Although the front end got finished, the engine I was going to put in turned out to have issues so the car still sits. I have a 110 that will hopefully go in soon so at least I can get it to an event sometime.
Other cars.
We have a few other vehicles, here they are along with a few links:
'62 Corvair 700 Wagon. It took a few tries to get the right wagon, the winner was the nice project car a club member had decided to sell. Trevor and I spent a year installing front seats, completely rebuilding the brakes, and getting it running.

"Lily" is a 700 with a 102/PG powertrain. The other notable option is tinted windows, but as far as I can tell that's the total installed option list. The photo is from the 2013 CORSA annual convention autocross in Kalamazoo, MI, where she was the second fastest early overall.




'64 Greenbrier. We've done a lot with and to our Greenbrier, so I made a separate page for it.




'66 Corsa coupe. Just too good to pass up. See more details here.

'99 Dodge Neon. Bryan's daily driver, it's an R/T sedan with the 150HP engine, 5 speed, and most of the comfort options. Interestingly, the power to weight ratio is about the same as the Corvair autocrosser and it has the same suspension as the ACR model, so it makes for a fun ride :-) Basically, it's the closest thing we could find new to a late model Corvair sedan with a 140/4 speed. You can find more Neon stuff at the Neons.org website. The photo at right is from when she was fairly new.


And more recently at an autocross. We've modified it for Street Touring autocross, it now has Koni shocks/Eibach springs, Mopar Performance engine controller and mounts, and BFG Rivals on 15x7 Enkei wheels.




Miatae. We wanted one when they came out, but the markups were too steep so we bought Ellie's '89 Camaro RS instead. Fast forward to 2011 when we needed another car, and a Miata was the perfect fit. We ended up with two since Trevor would need something to drive for school. Ours is the 2000 SE in Mahogany Mica, it's getting a few goodies but staying legal for SCCA Stock with the factory Sport Suspension, Koni shocks, and BFG gForce COMP2 tires. Trevor has the '99 Silver PEP package car with Flyin' Miata sway bars and BFG SS A/S tires. Recently added are Kumho Ecsta XS tires for autocross.

2009 F-150. Ellie really liked her 97 F-150, so when it reached about 180k miles we traded it in on a new one. It also has 4WD, air, cruise, and a tow package, so it's great for doing truck stuff and still being comfy.