Denise deNeon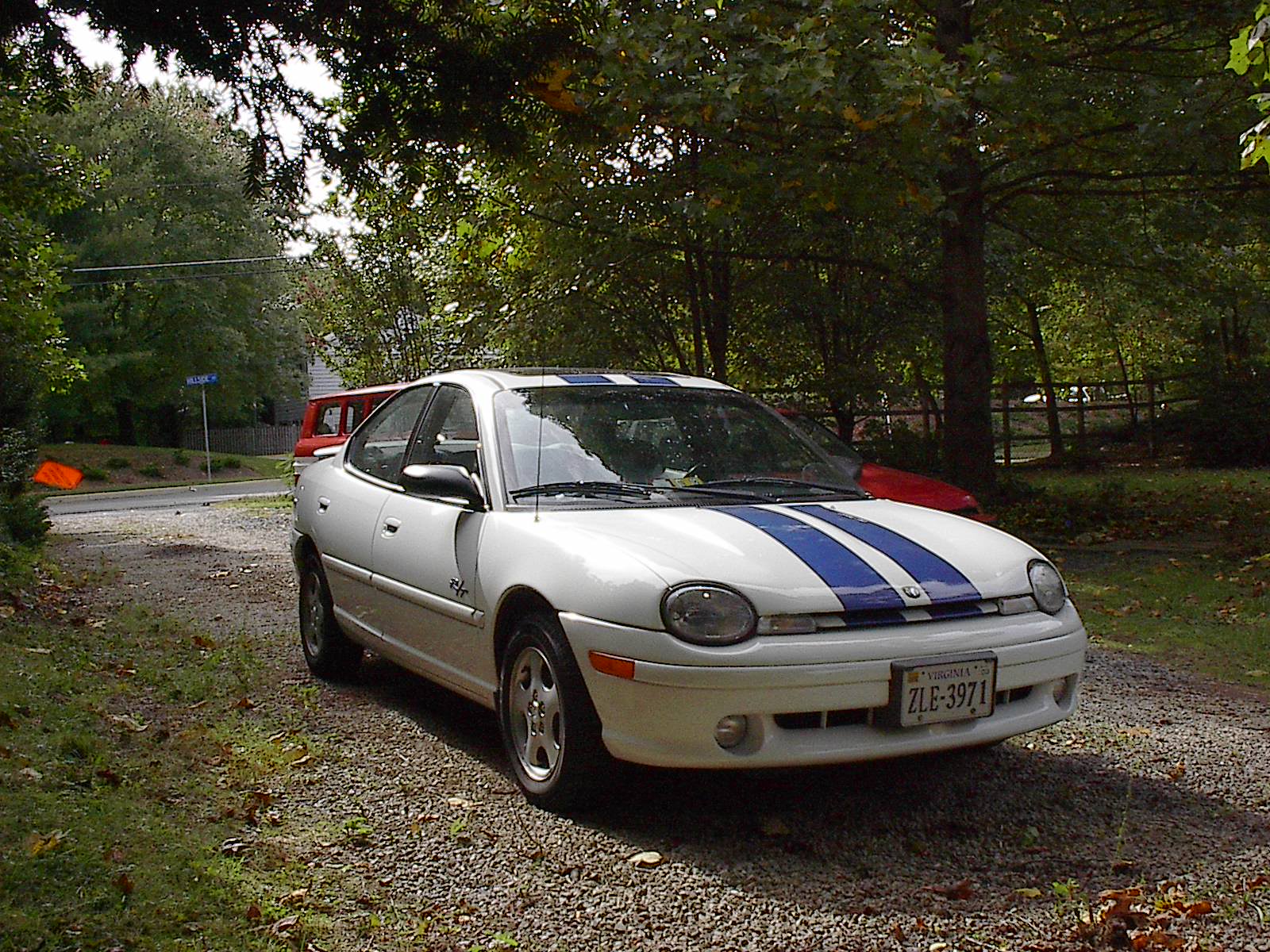 In 1995 Dodge and Plymouth introduced the Neon. More than just another economy car, they also had a performance package and contingency program aimed at SCCA competition. This got the attention of a lot of very good drivers who bought them and were very successful - both road racing and autocross saw fleets of Neons competing. In '98 we were in a position for a new car, so we went shopping for our own Neon. For Trevor's birthday we went out to Chuck E. Cheese, and on a whim stopped by a Dodge dealer afterward. And there she was.
'99 R/T.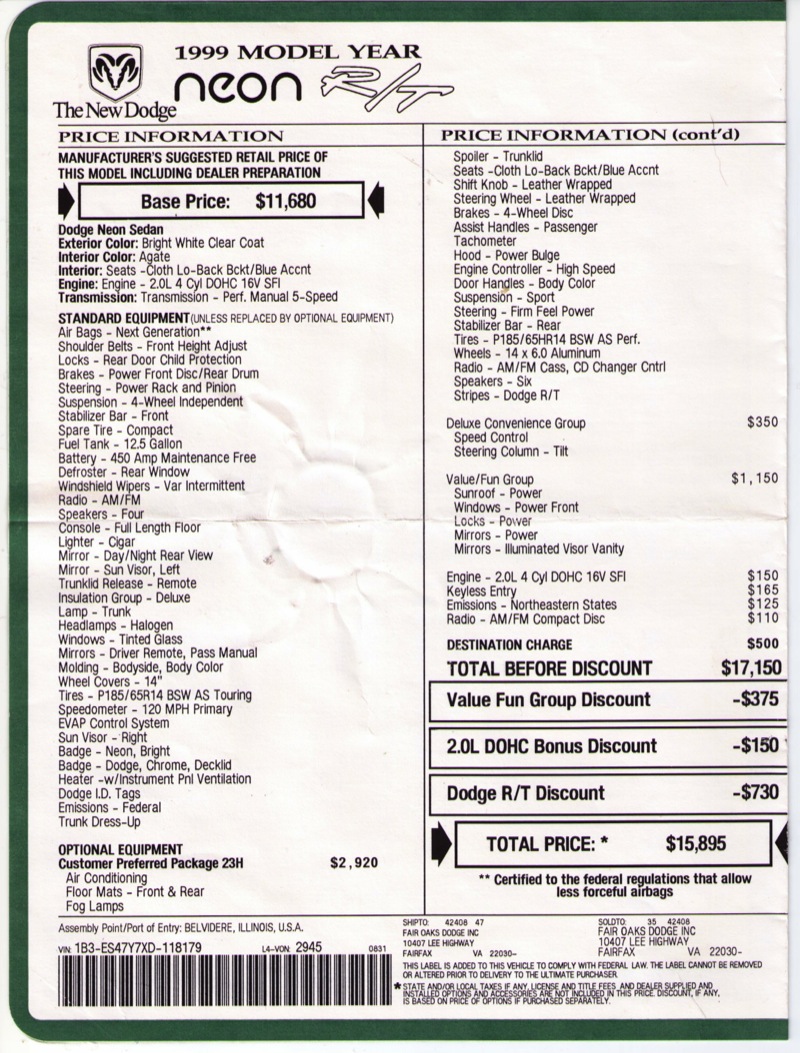 For the next dozen years or so, Denise was Bryan's daily driver, just a fun little machine, an R/T sedan with the 150HP engine, 5 speed, and most of the comfort options. The R/T package got all the important ACR options - 3.91:1 diff, 16:1 steering, disc brakes, and higher rate springs and sway bars. The only missing piece were the Koni struts. In addition the car got better seats, a nice stereo, leather steering wheel, and other deluxe bits. Very much the traditional Dodge "Road and Track" package.
Mods begin.
As things wore out, I started looking at various upgrade parts. Most significant was a set of Konis and Eibach springs to replace the worn out struts around 100K miles. A set of 15" wheels turned up on CraigsList. The friendly folks at the Neons.org website pointed me toward parts and things to look for based on their experience.
Time to Play!
We bought the Neon originally because we needed a small sedan for our family, the kids grew and Denise faithfully went to baseball games and family dinners, driving to work and here or there. But in the background was the promise of being able to autocross the car because, well, why buy a car you wouldn't take to an autocross?
In 2012 there was finally a free weekend. I saw an event run by Autocrossers Incorporated. Trevor was driving now. How about taking the Neon and trying out the sport? I didn't need to ask twice, so off we went! What we found was the promise of a car to autocross was really there, it was a joy to drive and we had a great time.
Click on an image to see the full size version.
Current Setup.
Denise is currently running in SCCA Street Touring, here's the 2017 mod list.
Koni Sport struts (yellows) with Eibach Pro-Kit springs
Rota Slipstream 15x7.5 wheels and Bridgestone RE-71R tires
Enkei RF-1 15x7 wheels and BFG Rival 205/50-15 tires (old setup)
Camber -2.0F/-1.0R
Prothane bushing kit front and rear
Deyeme lower brace, front and rear strut braces
Suspension Techniques 13/16" Rear sway bar with Vitor brackets
Mopar Performance PCM
Iceman cold air intake (cut)
Exhaust - MP header, Magnaflow cat, 2 1/2" pipe, DynoMax muffler
Engine mounts - MP front mount/bobble, Energy side mount inserts
OBX Underdrive Pulley
Updated rockers and lash adjusters (new replacement are the same as 2.4)
ACR front hubs
SS brake hoses and Hawk HPS front pads
Cody DeWolfe picked up a set of original Neon side graphics and shared the instructions and some detail photos at Neons.org:
Click on an image to see the full size version.