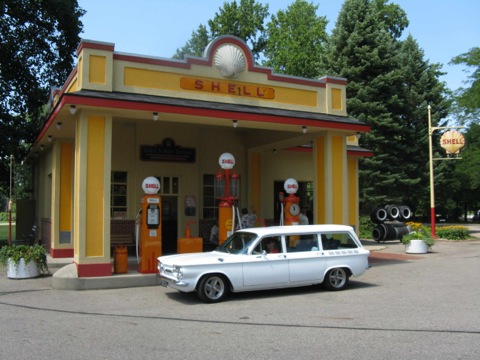 Third time's the charm.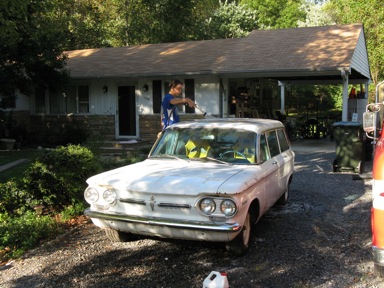 Given that we had a late coupe, we wanted something different in an early model, and something big enough to take on trips with our kids would be helpful, so a wagon was in order. We spent a long time getting the right project, it took a couple tries that didn't work out before a club member decided to sell this very solid 1962 700.
"Lily" is a 700 with a 102/PG powertrain. The only other option is tinted windows, nothing else, not even a radio or outside mirror (an aftermarket one was installed at some point). She was a west coast car and was registered in Nevada and Oregon before someone brought the car to Maryland. From there another Northern Virginia Corvair Club member got it, then finally us.
Trevor and I spent a year installing front seats, completely rebuilding the brakes, and getting it running. It took a couple passes at the carburetors to get a set that really ran well, but once that was done we drove it around the area quite a bit, although never on a trip of any kind. In this photo she's getting her first bath after the seat installation.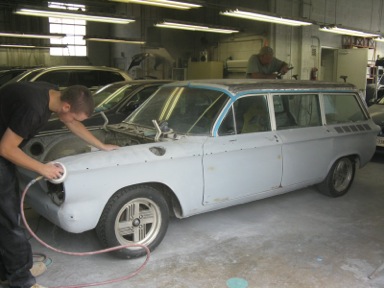 2013 - "If" was the word
"Sure, that would be fun", Ellie said, when I brought up this year's CORSA Convention. "What car will we take?" "Only real choice is the wagon, so I guess we'll go if it's ready." was my reply.
"If" became the theme for our trip. At that point the car was on jackstands, getting a freshened front suspension and late model sway bar transplant. If we were going we also wanted to do something about the cosmetics, so I enlisted Trevor, our 19 year old taking body classes, to do the work and our friend Doug, who is an auto painter by trade. to provide guidance. The car was solid but had surface rust, so I wrapped up the front end work and on May 18 had a club meeting at our house and started stripping off the old paint and priming. Trevor got a chance to do bodywork too, as we found some of the usual bumps and bruises under the repaint.
Meantime I made hotel reservations, "if" we got there we'd need them. The envisioned quick, four weekend paint job turned out to be unrealistic. The process became take off paint, wire wheel rust, fix some dings, and on to the next panel. "It'll look really good when it's done" I said, "if we get there people will like it."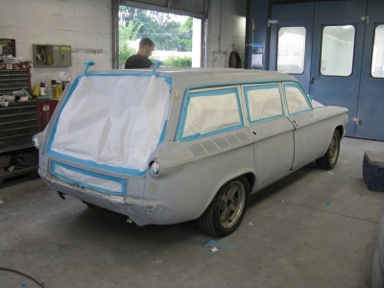 June went by, and it was the Fourth of July weekend. Trevor went away that weekend and called with good news - he started a new job at the body shop on Monday. No more free time to work on the car, but on Wednesday he had more good news - we could use the paint booth on Saturday the 13th. If the car was ready to paint, at least. On Saturday morning I drove the car up to the body shop, we stripped and primed the roof, then blocked the entire car. At 9:00 p.m. Doug started spraying. 3:00 Sunday we re-convened at the shop and hung the hatch, hood, air grill, and engine door then drove her home.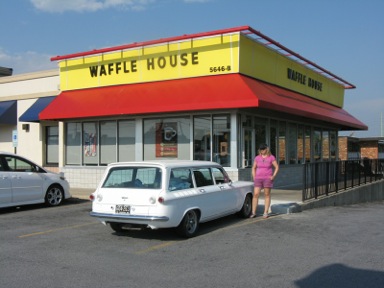 Monday was spent putting as many things on the car as I could before we left, and on Tuesday Ellie and I headed north! We arrived at Kalamazoo late at night, but no real issues on the trip. Next day a run through the car wash and over to the convention for shopping, Thursday we put some of the bits we had bought on the car. People came by "Looks great - new paint?" they'd say, and I'd say "Came out of the paint booth Sunday." "Sunday?!?" was a common reply.
Along about that time we realized a few things. First, Ellie hadn't driven this particular car, or for that matter any early Corvair, ever. Second, the last Corvair either of us had run in an autocross was our Greenbrier - ten years ago. Oh, and that front suspension change? It felt fine on the highway, but that was the extent of the testing. We were about to find out "if" it had turned out very well since we were signed up for the Autocross on Friday.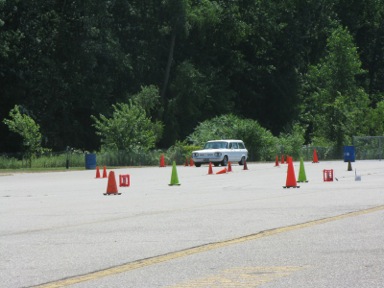 Friday dawned a beautiful day, it would be a great day for an autocross. Being in IS-1, we would be competing last, in the third heat. Ellie worked first heat, I took the second, we both sneaked looks at times when we had the chance. This was a really long course but very easy to follow. Times had a huge spread, the fast cars had some good spots to use the power and with that many turns the suspension better be right as well. Our competition was Mike Dawson in a pretty '61 Lakewood and Gene Barr in his nicely prepared and very serious looking '63 coupe.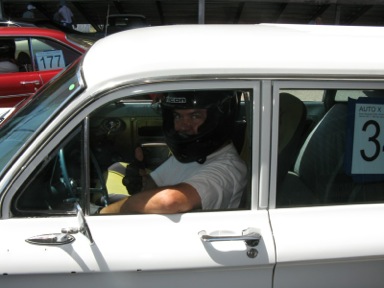 On our first runs we were both just feeling the car out, it really had turned out pretty well. Checking the times, Gene was in first at 100 and I had a 102. Closer than I'd hoped! Mike was in third and Ellie in fourth. Second run everyone improved and I was closer, 98.6 to 98.1. On the third run Gene showed us that coupes really are faster than wagons and pulled out a convincing win with a 96.3 to my second place 98.0. Ellie got closer but one trip around Kalamazoo wasn't enough seat time to get in front of Mike, so she got fourth.
Saturday was the Car Display on the grounds of the Gilmore Museum. What a beautiful place and very nice event indeed, a great wrap up to the week just seeing the cars and the museum, sharing stories with friends new and old. We could really say that "if" we were going to a convention, this one was a good one!
Late Model Front Sway Bar
By the spring of 2013 the wagon ran and drove pretty well, so it was time for some improvements. Step one was a freshened front suspension, I wanted to rebuild the lower control arms and add a sway bar. We'd collected some parts at swap meets plus I have a stash, and Clark's supplied the wear parts so the car got a late model cross member, lower control arms, front sway bar, and new bushings and ball joints.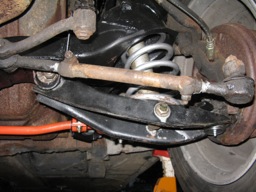 First some background. The '60 and '61 cars never came with a sway bar, and there's no provision for one in the crossmember. In '62 a 5/8" bar was an option - and even if not equipped the crossmember has the dimples but no holes for the inner mounts. In '64 a 3/4" front sway became standard, and the 15/16" bar was standard on all '65 - '69 Corvair cars (FCs never got a sway bar of any kind from the factory). Since the wagon has some additional weight versus a coupe or sedan, I wanted to install the heavier late model front bar.
While checking out the '64 lower control arms, I found that they have notably less substantial tabs for the sway bar than late arms, I assume Chevy beefed them up to cope with the bigger late model bar. I then found the LM lower control arm bushings are different to go with the camber adjusting bolts, so that meant if I wanted LM lower control arms I needed a late cross member with slotted lower control arm mounts, that also gave me the holes for the inner mounts.
Looking into this further, the cross members and lower control arms are dimensionally the same, the only differences are in the details above. Converting to late brakes and spindles would make the track wider and requires 5 lug wheels. Since I have wheels that fit and rebuilt brakes, I wanted to keep the early brakes and spindles. Fortunately the early and late Corvair lower ball joints are the same, which means that all the parts simply bolt together. I got a good deal from Wade Lanning for a solid late front cross member at the Vair Fair a few years ago and already had a pair of lower control arms, all I had to do at that point was put it all together.
So, my new hybrid suspension retains the stock '62 upper control arms, springs, spindles, brake reaction rods, and brakes. The front cross member, lower control arms, shocks, sway bar and mounts are late model parts. The result is a nice stock ride, but the car turns in better than before and has much less body roll. We took advantage of both by driving the wagon out to Michigan and at the convention autocross it was the second overall fastest early model.
Ads.
I'll have to get a copy of this ad, here's what Chevy was thinking in '61: