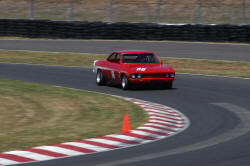 Racecar Liposuction.
There are two basic ways to make your Corvair faster - add power, or, in Colin Chapman's words, "add lightness". Don't forget to take a look at the Weight Removal page in the Stinger Prep Manual too. BTW, there are some minor discrepancies in weights here and there. I have included all the data, plus as much info as I could about how the weights were arrived at - in some cases there's more than one way to weigh an item (e.g. does the hood include the hinges).
---
Things you can unbolt.
Here are some weights (in pounds) of individual parts, courtesy of Patrick Caherty. In some cases you can't completely remove the part (like say the doors) but this will help you if you know how much the replacement weighs.
| | |
| --- | --- |
| Front Bumper w/Brackets | 12.0 |
| Rear Bumper w/Brackets | 12.0 |
| Heater Assy w/Ducting | 29.0 |
| Front Seat, each | 46.0 |
| Sill Plates and Trim | 2.0 |
| Carpet and Padding | 10.0 |
| Rear Side Interior Panels | 5.0 |
| Folding Rear Seat and Hardware | 73.0 |
| Engine & Rear Seat Insulation & Package Tray | 19.0 |
| Belly Pans | 8.0 |
| Spare Tire Mount | 3.0 |
| Steel Wheels and OE-size Tires | 148.0 |
| Trunk Lid | 51.0 |
| Engine Lid | 35.0 |
| Doors with glass and interior panels, each | 71.0 |
---
Bob Slusher makes an excellent point:
"My work was driven by the lack of money. HP costs money but weight reduction only costs time". Note that a couple of the weights may seem far too high - the front and rear lids are much higher than Patrick's weights above, so I asked him about those. Bob said "Both decklid totals reflect all of the items associated with those lids. All mounts, hinges, nuts & bolts, locks and the supports for those locks, the panel backing braces under those lids. I did not weigh any of the sand or rust that came out when I cut the skins off of the hood and trunk lids. Figured that was just too much. It does include the body putty (heavy) from under the cross supports. In the case of the trunk lid that figure also includes the steel supports welded into the body and even the two crossing "springs" that will keep the lid in the raised position. The respective weights include everything that could be removed if one were intent on making them as lite as possible and later installing the lids with race pins."
Here's a photo of the resulting lids along with some comments from Bob: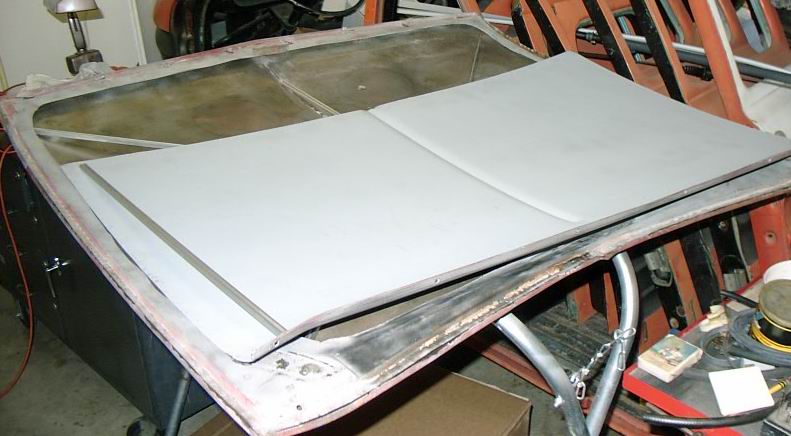 "The engine lid is now a skin only and the trunk skin was removed to aid in the cutting of the lid. I left in place the perimeter of the bracing and re-installed the lid skin. To get these skins reductions takes a LOT of work but it does peel those pounds. I went to all of this trouble because I felt that glass panels just do not hold the paint nor look as good as metal panels. What would have made a great photo is a big pile of all the metal removed from the car. It was quite the pile at one time."
On to the weights:
| | | | |
| --- | --- | --- | --- |
| Description | Factory weight | Race weight | Remarks |
| Body (bare) | 970 | 677 | w/ fuel cell, pump, filters, lines, M.C., oil cooler |
| Rear suspension w/ 7/8" sway bar | 135 | 124 | Inc. mounts & hardware |
| Rear cross member | 22 | 20 | Nylon |
| Engine deck lid w/ wing | 84 | 14 | Minus interior panel stiffener, hinge, supports, lock. |
| Rear glass w/ seal | 26 | 26 | LOF |
| Running gear | 470 | 455 | Headers, 4 spider, close box, light flywheel, .060 jugs |
| Motor mounts | 18 | 16 | Nylon front, solid steel rear |
| Tyres, wheels, lugs | 152 | 170 | 8" x 13" FIA vintage steel wheels, 205/60/13 |
| Brakes | 76 | 78 | Delco Moraine metallic w/ ss hose |
| Cage complete | 0 | 250 | Unbuilt - Estimate only |
| Front glass w/ seal | 38 | 29 | Replace LOF glass |
| Front suspension w/ 1" sway bar | 140 | 144 | Inc. mounts & hardware |
| Trunk lid (front) | 124 | 17 | Minus interior panel stiffener, hinge, supports, lock. |
| Chair w/ mount | 45 | 24 | Driver side only |
| Misc. | 0 | 100 ? | Belts, F.I.,oil, mirrors, paint, aux gauges, int trim. |
| Interior | 185 | 12 | |
| Totals | 2485 | 2156 | |
Note: "Body" above includes removal of all side glass, vent windows, and support hardware. Gas door hinge, rear air shelf, complete headlight assembly, wiring harness, marker lamps, f & r lock supports, undercoating, seam sealers (27#), badges, trim, bumpers, supports, hardware. All weights taken with bath or postal scale with an eye to eliminating 1 oz at a time. This car is prepared to FIA specs rather than SCCA GCR specs so some items will be different.
And a few photos of the finished hood and decklid:
---
Stan East's "Ounces".
Some time ago Warren Leveque asked for suggestions to reduce the weight of his already light racer and Stan East wrote several posts in reply. While many of these won't work on a dual purpose street/autocross car, some will. Of course those of you building track cars might wish to do even more. Either way, this is a good list to get you thinking.
Tubular anti roll bars (sway bars)
Fuel cell as small a capacity as required
Chrome Moly roll cage
Aluminum half shafts
Polycarbonate rear window (a.k.a. backlite)
Tilton aluminum brake and clutch pedal assembly with plastic reservoirs and aluminum master cylinders
Carbon fiber seat
Titanium exhaust for turbo (resists heat and much lighter)
Aluminum Shocks
Real magnesium wheels
Steering shaft only on rod end mountings get rid of the outer cosmetic sleeve
Cut dash out of the car and install aluminum "dash"
Use Autometer light weight gauges (aluminum)
Use aluminum hubs to mount the disk brakes to
Replace the cast iron transaxle with a Hewland
Replace the transmission cross member with an aluminum plate
More thoughts from Stan:
Have you removed every bracket and piece of metal not being used in the car. I mean as an example, if you have a hydraulic actuation for the clutch that all the brackets for the pulleys in the clutch cable assembly are removed. The brackets for the parking brake pulleys are gone. The rear seat mounting brackets are gone. ETC. If you work at this systematically then you can take over 50 lbs. out of the car.

When we built the Ice Racer Corvair we set all the electrical in a little switch box on the floor beside the driver seat and gear shift, ala SAAB (my partner and I both had mothers with SAABs at the time). This reduced the wiring length and weight of wire run to the dash and back to the engine. Use circuit breakers as the switches instead of fuses and switches like we did on the HL510 to save more weight. I think we used Cutler Hammer circuit breakers (this was 22 years ago!) which were designed for aircraft or light industrial use of up to 24 volt, they were no bigger than an aircraft/automotive metal toggle switch. We ran the wiring inside the car to the back parcel shelf, through a connector and then in to the rear above the transaxle and back to the engine along the stock route. This save a few more ounces and made service at races easier. Every ounce counts!

When you have minimized the wiring I bet you will have removed another 3 - 5 lbs. from stock.