5. Interior and Gauges
Install a large warning light for alternator (fan belt). Pull small warning light from back of panel and connect a tail-light to these wires. A competition engine will last about 15 seconds without a fan belt.

Extra cylinder head gauges are recommended. Use the thermocouple type and connect to the center cylinders on eack head. A flat area must be milled on the bottom of the head (approximate same location as regular sending unit) There is room to drill and tap a 1/4 inch hole 3/4 inch deep to attach thermocouple.

Oil temperature and pressure gauge should be taken off the return line from the auxiliary oil cooler. Temperature with proper cooler will not exceed 210 deg F and pressure will not be less than 45 psi.

A good 8000 RPM tachometer should be installed, preferably a type without a sending unit or batteries.

The fiberglass Yenko racing seat can be installed on the stock seat mounts by bolting a 1/4 inch thick aluminum plate across the brackets and bolting seat to plate. A wood 1 x 2 can be used to space up front of seat for proper angle.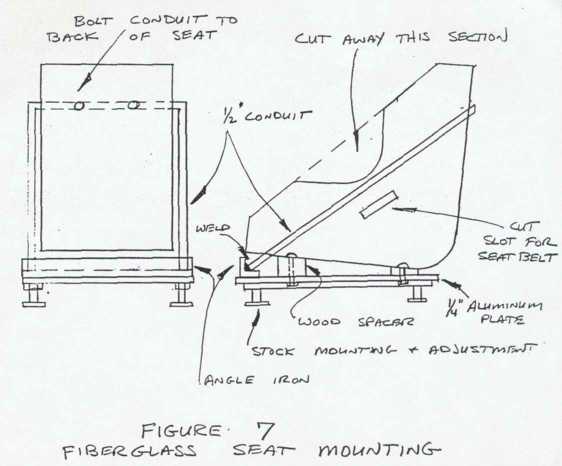 The IECO quick shift option helps make shifting easier and faster.
The roll bar should be bolted to the floor in such a manner that the plates overlap the seam in the floor just behind the driver. The car has the potential of splitting in half at this point under severe impact. Running braces to the rear and to the front fender wells vastly lmprove cars rigidity and cornering stability. The front braces can be made from thin wall or smaller diameter tubing to save weight.
---
The Stinger Prep Manual section is copyright Jim Schardt. All rights reserved.
---
---