Photo Gallery.
This is a group of high performance and racing Corvairs photos that aren't for a specific page. There are and will be shots of stock cars, but those will be racing too :-) If you have info on the cars here to add, please drop me a note.
Tahoe '99 Corsa convention.
| | |
| --- | --- |
| Mike Guintard, a member of Cactus Corvair Club of Arizona, and Scarlett, his '64 Monza convertible. Notable options are the Kelsey-Hayes wire wheels, and air conditioning. Mike and Scarlett finished 4th in the autocross and 5th in the Cole competition! | Buck Jones' road racer, from the S.F. bay area |
| This is a very nice Corv8, belonging to Hector Gonzales of the V8 registry. | Lance Jordan's Corv-8, he drove it from Idaho. Engine is a blown 350 Chevy, coupled to a Toronado transaxle. There is a special spacer tube to move the engine forward to improve weight distribution, and to give space for a better rear suspension layout. |
---
Stinger Reunion photos.
Some shots from the '96 and '99 events at Mid-Ohio courtesy of Tom Beech.
Chuck Sadek, YS073 Vintage Stinger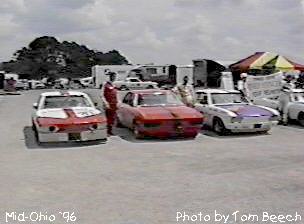 The car on the viewers left is Spence Shepard's number 37, Warren's is in the center, the car with purple trunk lid is Steve Olson, number 96 and Jim Schardt's is just visible on the right. Thanks to Tom Beech for updating me on the owners.
---
Sprint cars.
Corvair engines have been used to power Sprint Car class racers, here are a few photos. Number 97 (top row) is courtesy Rick Stansbury of a car from New Zealand, the owners name is Tony Putt. Number 15 (bottom) was taken by Van Pershing at the 1980 CORSA Convention in Denver.
---
Chicago 2002 CORSA Convention.
Some shots from the 2001 CORSA Convention in Chicago (really the suburb of St. Charles).
Tim Schwartz' Corsa, it's mechanically stock with 195/70-13 tires on it. This is a nice size tire for a stock wheel on a street car.
Mike Seversin's '65 Corsa convert, with 16x8 IROC wheels and 225/50-16 tires.
Terry Mitchell's '66 Yenko Stinger, YS020. Wheels are 14x7 Minilite with 215/60-14 tires.
---
Bill Thomas Prepared Special.
This car belonged to Richard Eben, here's his story, sent in September 2006:
Hi, my name is Richard, I am 67 years old and was a tank driver at Fort Irwin Ca. in 1964 and was discharged there. I heard about a Bill Thomas race car for sale. When I saw it I baught it. A 60 Corvair Monza with 6 carbs, special headers, Bill Thomas wheels, modified steering, suspension, all kinds of trick stuff they told me Bill Thomas built it for racing. I drove the Monza to Florida where I live. I entered races with Corvettes, Jags, Porsches, in 1964 in Fl. and would beat them. I traded the Monza in for a new Austen Healy 3000 in 1965 at a Miami car dealer. I have always wonderd what happend to the old Monza. I had it painted candy apple maroon in Ca. before I left out there.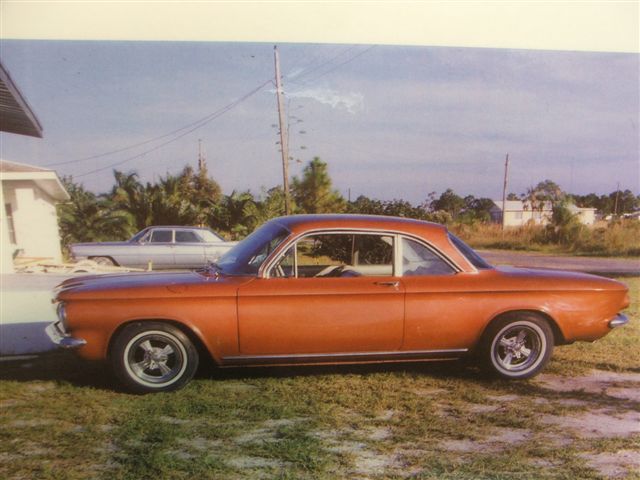 Drop me a line if you know more about the car and I'll forward it to Richard.