Chuck Cromwell's Early.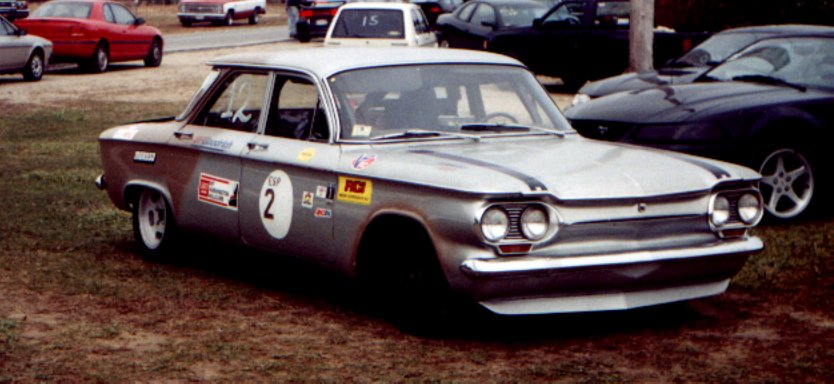 Image from the QSCC web site.
Owner:
Chuck Cromwell
Car: 63 700 Sedan
Class: E Street Prepared
Engine: The engine is stock bore 140 with headers, cam shaft is a 280 Iskendarian. The heads have been ported, relieved, and semi-polished. Cylinder barrel gaskets have been removed boosting the compression slightly. I can still run 93 octane with this setup.
The 140 heads on all my engines have the seats drilled and set screws screwed in to hold the seats in. I have never dropped a seat in 6 years of racing in any of the cars that I have done this to.
The carbs are bored 1 1/8 inch and the cluster arms have been extended to the same distance to the Venturi as was new. The jets have been relocated and bored to 62 thousanths and the secondary head ports have been plugged off, thus running only 2 carbs, and the choke assemblies have been completely removed and the holes plugged.
The oil filter is a remote filter allowing me to run larger filters, oil pan is an Otto finned pan. The fan is cut to 9 inches. The distriubutor is a 1973 6 cylinder Ford electronic ignition system. I am also running a solid pulley and have had no problems with broken crank shafts. Idler pulley is spring loaded, also running an alternator instead of a generator and electric fuel pump.
Suspension: One coil cut out of the front springs, 1/8 degree toe in, 4 degrees positive castor, 4 degrees negative camber, rear springs are from a van with 1 coil cut are also set at 4 degrees negative camber, with gas shocks all around. Four speed transmission, positraction rear end with 3.08:1 gears, 195/60-14 B.F. Goodrich Comp TA tires.
For the 2000 season, Chuck has installed rack and pinion steering, here's his description: The rack is from a '73 Chevette. I hear that the Fiero is the same. The steering is now three turns from stop to stop instead of the 4 1/4 turns it had. This was an easy conversion because I have no gas tank and the bottom 3 inches has been cut out of the trunk. A cell replaces the tank. I don't know if you could install this rack with the gas tank in place. I have not had this car on the track since the installation so I can't tell you if its worth the work, Lime Rock will be the first test.
Other: The interior has a 14" Chevette steering wheel, 3-speed shifter, a full set of gauges in a Spyder dash, full roll cage, 5 point harness and racing seat. The engine compartment lid is spaced with a 1/4 inch spacer located under the forward section of the hinges making the lid stick up about 1/2 inch above the body, similar to what is done to the VW Beetle for more cooling. It also has an 8 gallon fuel cell and front spoiler.
History: When I first purchased it, it had been partially restored. I finished the restoration and entered in several area shows. The car was originally our everyday use car. At one of our car shows a spokesman for the movie industry approached me and asked me if I wanted to have my cars in a movie. I said yes, and the car appears 4 times in the movie "Mermaids" with Cher, Bob Hotchkiss and Winona Ryder. I am in two of the scenes, driving the car.
After purchasing a 1990 Corsica this car was retired as my daily use car. In 1993 I was looking for a car to autocross and this became it. After beginning as H stock by SCCA rules, it now (1999 season) runs ESP and next year (2000 season) will be running in prepared.
This car also runs at Lime Rock and Pocono road courses, it is quite competitive and has frequently beat Corvettes, Camaros and the like. Next year a new engine will replace the present engine. This engine will be bored 40 thousandths over with a bigger cam and the heads have had more porting and relieving than the present heads. This engine will run with no head gaskets.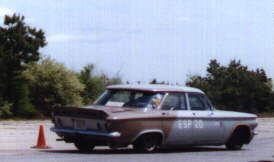 Image from the QSCC web site.