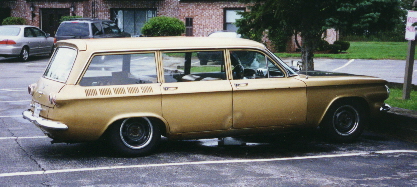 Owner: Jeff Angelli
Car: 1962 Monza Station Wagon
Suspension: Up front are stock springs cut one coil, Gabriel Gas-matic shocks wearing Fitch (Aeon) auxiliary bumpers, and custom made Fitch style quick steering arms. In the rear are Fitch Sprint springs for early coupes with a '64 transverse leaf and Gas-matic shocks. Wheels are 14x6 with Yoko Avid 185/70-14 tires. Current handling gets me 0.78 g's on the G-Tech up from 0.58 with stock suspension and bias plys.
Other: I mounted a hood tach and auxiliary three gauge pod in the valley of the dash, and had to have tunes so an in dash CD stereo went in.
Future: I have the Fitch four carb heads, dual exhaust, and wood wheel with grab bar yet to install. The paint will be amethyst pearl and silver Fitch stripes with silver pearl roof. I also have some 14 inch Datsun 280 Z wheels that will be polished and put on and a front air dam is planned.